Vertical Transportation Consultancy Services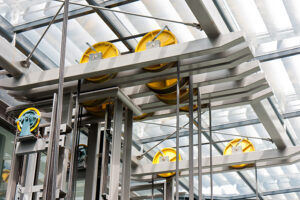 We provide independent vertical transportation advice born out of many years of industry experience. Our aim is to provide accurate and helpful guidance to assist you in the management of your asset.
As an owner or manager of a building you will at times feel the need for independent advice, we can provide you with that advice to keep your vertical transportation systems fully compliant and operational.
Whether it be Lifts, Escalators, Moving Walkways, Platform Hoists or Façade Access Equipment they are all vital to the successful operation of your buildings and the occupants and visitors who operate within them. Well maintained vertical transportation systems add value to your asset and have an impact on the overall efficiency and running costs.
Services Scope – We believe in keeping it simple and our services include:
Surveys and Reports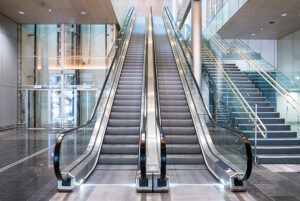 We can carry out detailed surveys on your existing equipment focused to your needs and our bespoke reports will provide you with the information you need.
We can offer a 'summary' type report which can be used as an asset register detailing all key information relating to the equipment as well as any Health and Safety recommendations in line with relevant Code Standards or a more 'comprehensive', format breaking the information down into the main key areas of the asset, machinery space, lift well, landings and lift car, Health and Safety issues, reliability as well as maintenance defects or issues which we recommend should be addressed.
The quality of the survey does not change so if we note any major defects these are always reported.
Major Works
We can also provide fully comprehensive services to enable contractors to tender for upgrade works, these may comprise comprise of;
Initial client meeting to agree the project requirements
Site survey
Specification production
Tender to the market
Detailed tender analysis and recommendation
Issue letter of intent/PO on behalf of the client
Pre-order meeting
Project management (meetings scheduled)
Testing and compliance checks
Snagging checks and sign off
Documentation checking
Completion certificate issued alongside the contractors
The above items take the process from 'cradle to grave' however we can tailor our service to your exact requirements.
Other services we can provide relative to your Vertical Transportation includes:
Portfolio asset register production
Maintenance contract/specification and tendering thereof
Insurance report management
Invoice and repair quote validation
Regular service meetings with your contractor(s) and building manager
Annual equipment audits
Documentation and Records Checking
Traffic Studies and Analysis
Test Compliance and Noise Quality Checks
Meeting Representation
Priding ourselves on the highest professional standards our range of consultancy services will meet your needs whether you are considering a long-term strategy incorporating product upgrades, change of building use, major modernisation, new equipment or scheduled repairs over an agreed period to meet statutory regulation and Code Standard compliance.
We approach every commission on its own merits to meet your requirements and provide you with the best possible advice in terms of cost, equipment and programme periods every time.