We are very pleased to share the news that Michael Karling has achieved Chartered Engineer Status as a Member of the Institution of Mechanical Engineers.
Engineering improves our world, so we are safer, happier and can lead more fulfilling lives. As a professionally registered engineer, Michael make's a vital contribution to the engineering profession.
Michael joined the Tonbridge Design office in February 2016 before joining the London Design team in late 2017.  He has led a number of high-profile projects such as St George's University of London, One New Change and Furze Platt Senior School, he also spent six months on part-time secondment to Allen and Overy as part of their engineering team. Michael is a key member of the company BIM leadership team and heads up Banyard's energy efficiency and sustainability group: Sustainable Thinking.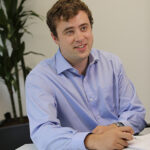 Michael Karling commented: "I am delighted to have achieved this prestigious professional accolade at this stage of my career. The vast majority of the experience that contributed to this recognition was gained at Banyards. Banyards have granted me some fantastic opportunities,  both with internal project work and with extra-curricular activities such as the UKGBC Future Leader's programme. It is thanks to this trust in my ability to deliver that I have achieved chartered status. I am extremely grateful for the support of everyone at the company who has helped develop my knowledge and skills over the past 5 years. Chartered Engineers are well respected in the industry and the title comes with a responsibility to keep improving and learning, this is just the beginning of my professional journey."
Ian Matthews commented: "We are extremely pleased that Michael has managed to achieve his membership of the Institution of Mechanical Engineers and has successfully been registered with the Engineering Council as a Chartered Engineer. Registration is an important step in any Engineer's career, as it marks an independent confirmation of  their standing within the profession. Client's and other consultants know that they can trust Michael, along with all our other Chartered Engineers, to be both knowledgeable and conscientious in their approach. In an industry where management of risk is our main purpose, this trust is vitally important and is the reason that our clients keep coming back to us.
On a personal level I would like to comment on how much Michael has achieved with us in the, relatively, short time that he has been in the industry. As an employee, he really does embody our Core Value of being a "Can Do" person and this is evidenced by his continued success but also the high regard that he has from both colleagues and managers. At Banyards it is part of our ethos to be continually developing our staff. I have no doubt that Michael will play a big part in our future and wish him continued success."