Banyards are proud to have played a major part on the new University of Manchester Engineering Campus Development (MECD), handed over to the client on 14th May 2021. The Manchester Engineering Campus Development (MECD) represents the single largest construction project undertaken by a UK Higher Education Institution.
The completion of this £300m+, 6 year, project brings all the engineering schools to one campus that will house a community of 8,000 staff and students across 5 buildings; Odd Fellows Hall (OFH), York Street Building (YSB), Upper Brook Street (UBS), Mech Hall (MCH) & the Active Travel Hub (ATH).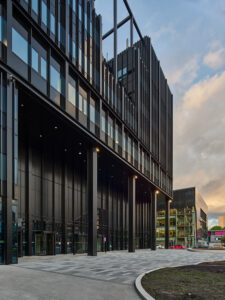 Our Commissioning Management team, led by Tony Craig, overcame the project challenges from design through to completion. Commencing with the early design stages our detailed commissionability reviews ensured the MEP systems could be commissioned in a cost effective and efficient manner. This led on to us chairing specialist integrated workshops, producing logic linked programmes, interfacing with the client and 3rd party stakeholders and detailed tracking of each stage via bespoke schedules, tailored to the MECD project prior to handing over fully compliant systems to the University of Manchester.
As part of our role as the Independent Commissioning Manager, we managed the technically challenging commissioning and water treatment process due to an early requirement for 'heat on' to each building for the various handover phases. The (sitewide primary) district main from the York Street Building energy centre supplies heating and hot water to the whole campus via 6 satellite plantrooms located in the basements of each building as well as the level 6 plantroom. The filling and water treatment process spanned some 15 months which included regularly sampling as per BSRIA BG29 guidelines.
We also managed the commissioning of multiple specialist systems; not least the University's Extra High Voltage Lab Facility / EM Suites / Laser Enclosures / Anechoic Chamber / Clean Rooms & Textiles / Process Extract Systems / Life Safety Systems (Fire Alarm / Emergency Lighting / Sprinkler / Gas Suppression) just to mention a few.

The project was a complete team effort and a credit to everyone involved.
The University is committed to Environmental Sustainability, with MECD being the first project to appoint a dedicated Environmental Sustainability Advisor to develop and drive the University's comprehensive sustainability targets throughout the project's life cycle, including a BREEAM Excellent rating, a new active travel hub and green roof.
Professor Martin Schröder, Dean of the Faculty of Science and Engineering said:
"MECD affords an exciting new environment for the delivery of interdisciplinary research, teaching and impact across engineering. We are eager to progress towards populating MECD with our staff and students, creating an inspiring, highly flexible first-class teaching and research environment that transforms the way in which the University educates engineers for the future."
Banyards' responsibilities included full M&E Commissioning Management and Validation covering:
Commissionability reviews
Detailed commissioning plans
Fully logic linked commissioning programmes
Innovative online Commissioning tracking system
Witnessing of all M&E systems
Managing and producing the Building User Guides and Building logbook to CIBSE standards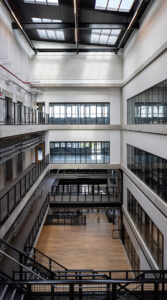 Andy Kinder, Construction Director for Balfour Beatty said:
"Banyards were carefully chosen to lead the Independent Commissioning Management for Manchester Engineering Campus Development (MECD) at the University of Manchester and have been crucial to the success of the project from their initial appointment through to practical completion.
Banyards engagement provided stakeholder confidence that needs were fully understood and would be addressed through the commissioning management process.
Early input from Banyards allowed commissionability studies to be undertaken during the design stage, ensuring that the commissioning requirements were designed and built in and their commissioning plans, together with their management of commissioning risk registers and witnessing schedules ensured the works were well planned and implemented, through all stages of the commissioning through to successful system acceptance. 
Banyards exceeded expectations, demonstrating an excellent ability to proactively understand the interaction between the buildings systems and associated integration of the specialist systems."

The comprehensive Mechanical and Electrical systems included:
46 AHU's
141 Pumps
6 Air Compressors
27 Km. Orbital Welded Gas Pipework
10 Chillers with 6.5 mw of cooling
820 Active Chilled Beams
11,000+ Hard wired BMS points
1,460 Window Actuators
70 Km of Basket
34 Km of Trunking
120 Km of Conduit
900 Km of Single cables
12,000 General light fittings
342,425 Zip Ties!

Image credits: Balfour Beatty