Commissioned by Spatial Initiative as their Independent MEP design engineer, Banyards provided professional consultancy to ensure the building services design met the expectations of design requirements of all MEP systems, comfort, reliability, safety, and energy efficiency, in accordance with the 'London Plan' and DFE Specification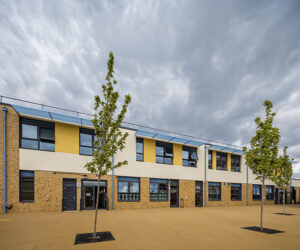 The scheme consisted of a £6.7M large block replacement to provide 1872m2 of new teaching space at a 2FE community school located in Wood Green, North London. The volumetric modular project was delivered by Spatial Initiative on a very constrained site due to the sprawling single story 1950s existing building.
The project included a new nursery, KS1 & KS2 classrooms, a specialist practical teaching area, new main hall, library, group and staff spaces and was carefully designed to prevent overheating and resilience to climate change and the likely increasing temperatures expected in 2050 & 2080.
The new building utilises passive design techniques and is based on the principles of a 'Fabric First' approach and benefits from a host of design enhancements. These include:
Enhanced Glazing Specification
Increased Window openings
High Performance non-removable Blinds
Boosting ventilation rates
Introduction of linear grilles – increasing effective room volumes
Feature External Shading (brise soleil)
Albedo considerations – additional trees and a lighter palate of external materials.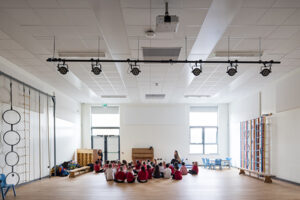 Finally, the building has been future proofed for the retrofitting of cooling installations which may be necessary if global temperatures continue to rise unabated. With the addition of Photovoltaics to provide 20% of the building's energy. The building will achieve a 29.00% betterment in terms of CO² reductions and an A rated EPC.
The design was executed in accordance with BIM Level 2 requirements, using Revit to coordinate the design and ensure contractors could provide an accurate cost and minimising any provisional sums. The project was also hosted online through the BIM 360 common data environment. The adoption of a modular construction solution enabled a significant saving on the overall build time.
This project was delivered as part of the DFE Construction Framework.
About the school
Earlham Primary School is a vibrant and friendly two-form entry school serving its local diverse community In Wood Green, North London. An ambitious school that is committed to meeting and supporting the varying needs of all its pupils in a nurturing, caring and inclusive environment, passionate about education and committed to providing its pupils with the best educational and personal development opportunities. The new building provides the school community with an inspiring and modern new learning environment.