The completion of UCL's (University College London) world leading Person-Environment-Activity Research Laboratory (PEARL) brings unlimited possibilities to the type of research environments that can be created within this massive column free, 100m long, 40m wide, controlled space.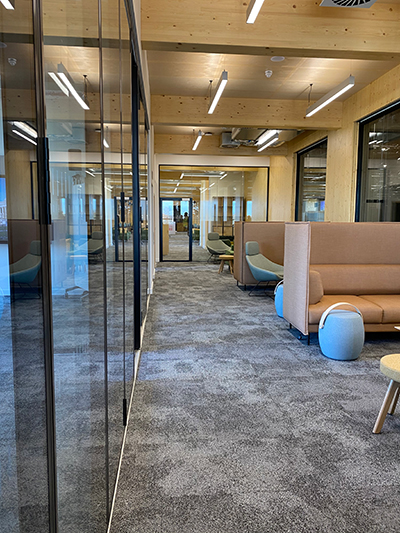 The building's areas consist of a reception, offices, kitchen, workshop, social and study areas, mezzanine plant decks and a high-level specialist lighting gantry. A dedicated sound laboratory allows research development to continue in parallel with live simulations.
Employed as UCL's Independent Client Commissioning Verification Engineer on this ground-breaking project, we worked with UCL and Aecom to deliver a unique facility which enables detailed research into the ways that people interact with any single environment, from a tube station to a Greek amphitheatre or a city street anywhere in the world.
Acoustically the space is dead so the researchers can control the sound to create soundscapes, and the light is managed by a huge lighting array that can recreate any light or sky around the world. The fresh air volume is controlled through plant situated at the north end of the facility and fed in for each simulated environment.
With all the plant being powered by a massive 4,000sqm photo voltaic array, together with the very high performing fabric of the building, it is UCL's first Net Zero carbon building.
Commenting on PEARL's completion, Neil Turvey, UCL Estates Development Assistant Director, said:
"This has been an exceptional project from the outset with a clear academic vision. By working and performing as a team from concept to construction, we have been able to deliver this exceptional facility safely, on time and to budget.
PEARL will now enable research into accessibility and mobility whilst providing UCL with its first carbon neutral in use facility, adding to the portfolio of Estates Development projects delivered achieving outstanding sustainability credentials. A great achievement by all those involved."